Topographic Gradients (Toposequences)
Glossary - Braun-Blanquet Names - Plant Functional Types - Topographic Gradients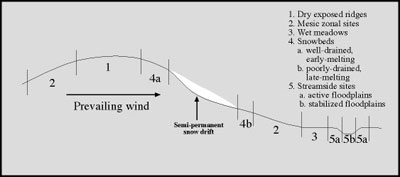 A comprehensive hierarchic approach to understanding and classifying the vast majority of natural Arctic vegetation at macro- (global), meso- (regional), and micro- (local) scales is achievable by understanding the natural variation of plant communities with respect climate, physiography, parent material and relief drainage. This is the organizing principal behind the CAVM and the AATVM where plant community codes are grouped according bioclimate subzone, floristic province, pH of the substrate, and position along a meso-topographic gradient (Figure 6).
The important role of topography has long been appreciated in soil science (Birkeland 1999). G.A. Milne recognized that soils on the same parent material tend to vary in a predictable fashion along hill slopes. He called such repeating assemblages catenas (Latin catena, chain):
"…a mapping convenience…a grouping of soils which while they fall wide apart in a natural system of classification on account of fundamental and morphological differences, are yet linked in their occurrence by conditions of topography and are repeated in the same relationship to each other wherever the same conditions are met with" (
Milne 1935
) cited in (
Warkentin 2006
).
When added to the Russian zonal concepts of soil development in relationship to the prevailing climate (Dokuchaev 1899) and geology (Ellis 1932, Kruckeberg 2002) a sound multiple-factoral approach was developed for soils (Jenny 1941) and later applied to vegetation (Major 1951).
The term catena is rarely used in vegetation studies because it refers to a specific set of soils that can be expected on a given substrate in a specific climatic setting, but the general idea of change along hill slope gradients has been used in numerous arctic and alpine studies (e.g., (Billings and Bliss 1959, Flock 1978, Hrapko and LaRoi 1978, Bell and Bliss 1979, Burns and Tonkin 1982, Miller 1982, Ostler et al. 1982, de Molenaar 1987, Nams and Freedman 1987, Elvebakk 1999, Sieg and Drees 2007)). D.W. Billings formalized the concept of a mesotopographic gradient to describe this variation (Billings 1973); other similar approaches include the ecohydrological gradient (de Molenaar 1987) and the synthetic alpine slope model (Burns and Tonkin 1982).
General toposequences for each Arctic bioclimate subzone
A. Elvebakk has explained the general concept of applying toposequences in the Arctic (Figure 1):
"The information from each zone in a [floristic] sector should include information on at least four major habitats…(i) dry, exposed ridges, (ii) intermediated habit, or or mesic zonal site, (iii) snowbeds, and (iv) wet sites, in addition also (v) riparian habitats. "'Dry exposed ridges' are convex forms strongly exposed to wind and desiccation. Such areas have little or no snow cover during normal winter conditions in contrast to neighboring habits, and plants are exposed to water and mechanical stresses. 'Zonal' habitats are habitats, which are intermediate with respect to all major ecological factors. The are neither strongly exposed to winds nor desiccation and are normally protected by snow during winter time, nor is there any stress related to a particular late-lying snow cover as compared to often neighboring snowbeds. Soil texture is intermediate, and data is avoided from sites with extremely favorable (south-facing) or unfavorable (north-facing) exposures The other habitats are called 'azonal' because they are characterized by a particular stress factor, like desiccation, long snow cover, water saturation or instability." (
Elvebakk 1999
).
The toposequences in Elvebakk's portrayal become increasingly complex along the bioclimate gradient because the range of microclimatic niches is broader in warmer climates. Not shown are the differences in toposequences on acidic and nonacidic areas.
Examples from the literature for northern Alaska - Generalized toposequences for Arctic Alaska